Meet Our Team
Heather D. Blease, Founder and CEO
Heather D. Blease founded SaviLinx in 2013 on Brunswick Landing, the former Brunswick Naval Air Station. As CEO of SaviLinx, she has ushered the company through rapid growth serving both commercial and federal clients out of Maine and Mississippi. Blease was the founder and CEO of Envisionet in 1995, a company that grew from start-up to more than 2,500 employees and was recognized as one of the fastest-growing companies in the Maine technology economy.
Heather has garnered many awards for her achievements, including the USWCC Growth Master award, the MRRA Most Innovative Business, and ranking #28 on the 2017 Inc 5000 Fastest Growing Private Companies. She is a Maine native and graduated from the University of Maine with a degree in Electrical Engineering.
Kim Williams, COO
Kim Williams was formerly the COO of NexxLinx Global, which provides customized support solutions for global clients. Kim was responsible for the successful implementation and ongoing operation of multi-lingual, multinational BPO projects. Over the last two years, she led a joint venture in the Netherlands and established companies in the United Kingdom and Germany. This effort laid the foundation for a home based operation which currently supports 12 languages and client programs in over 15 countries.
As a member of the NexxLinx senior executive team, Kim held several key positions which significantly improved company performance. As CHRO, she implemented a very successful multi-site initiative which resulted in a 25% reduction in annual attrition. As VP/General Manager of Operations, she managed multi-site contact centers and led the design and execution of major new support programs for both Microsoft and Dell.
Prior to joining the NexxLinx team in 2000, Ms. Williams worked with technology companies in a broad range of roles including sales, marketing, IT and operations. Kim graduated Phi Beta Kappa with a BA in Government from Colby College and earned her MBA from the University of Maine in 2012.
Paul Crockett, Director of IT and Facilities
Paul Crockett has two facets to his responsibilities for SaviLinx – architecting and deploying the information technology used throughout the company, and managing the company's physical facilities in Brunswick, Maine and Hattiesburg, Mississippi. He started his career in technology at Digital Equipment Corp., where he met SaviLinx Founder Heather Blease and COO Kim Williams. He worked with them again as Chief Technologist at EnvisioNet, and also served as an IT director for a nonprofit firm in Maine before joining the team at SaviLinx. Crockett has a range of IT expertise, including with the networking, telecommunications, and cloud-based technologies used to deliver services to SaviLinx's customers. He has renovated numerous houses, and uses his knowledge of carpentry, HVAC, and electrical work to manage tradespeople at the SaviLinx facilities. When he's not at SaviLinx, he manages a home inspection business, serves as Chairperson on his town's board, and helps his wife run her bakery, Hello Good Pie. The couple are self-described "foodies" who enjoy food and wine adventures.
Dana Seamon, Director of Operations – Hattiesburg
Dana Seamon oversees operations in SaviLinx's Hattiesburg, MS location where she manages the Quality Assurance, Technical Support, and supervisory teams. SaviLinx's Hattiesburg operation has grown rapidly during her tenure from a team of 20 to more than 200 agents.
A graduate of Penn State, Seamon has built a solid career during the last 15 years in management operations, and most recently held senior management team positions at a contact center company.
Seamon joins SaviLinx's team of animal lovers with a family of dogs she enjoys walking. Her Marine-veteran husband and daughter round out her family.
Amy Bergeron, Recruiting Manager
Amy is responsible for recruiting the talent that powers SaviLinx – our Tech Support and Customer Service Agents. In addition, she manages the company's benefits and program enrollments. She joined SaviLinx with experience in contact center recruiting and human resource management, and knows how to find the right people to take care of our clients and their customers. Amy thrives in a high-paced environment and says she "jumped at the chance" to join SaviLinx. She loves helping the company as well as the people she meets through the interview process.
Pat Colwell, Client Success Manager
Pat works directly with prospects and clients to design solutions that meet their customer service needs. He acts as a bridge between SaviLinx Operations and clients to ensure that they receive the highest possible value from our solutions. He loves problem solving and creating win-win situations that work for clients and SaviLinx alike. He joined the company after multiple business development roles. Pat also represented his community for eight years in the Maine House of Representatives, including serving as Speaker of the House. In his spare time he records and performs with two bands: Pat Colwell and the Soul Sensations, and the Colwell Brothers.
Andrea Georgian, Training and Employee Relations Manager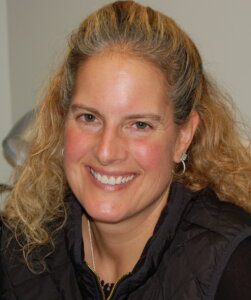 Andrea's role at SaviLinx is to work across the organization to develop programs and policies that help employees grow and improve skills, relationships, and job satisfaction as well as to partner with the greater community. Andrea helped establish SaviLinx University, a portfolio of learning opportunities to foster personal and professional growth among our team. As Training Manager, she is responsible for helping agents build the skills they need to support our clients and achieve personal growth goals. She works closely with employees to instill SaviLinx's core values of respect, integrity, and excellence. Among the community outreach programs Andrea has established are sponsorships of Big Brothers Big Sisters and United Way. Prior to joining SaviLinx, Andrea was a teacher and coach. Outside of work, Andrea and her husband tag team managing four children and their adopted rescue dog from Mississippi.
Cristy LaFortune, Program Manager
Cristy manages a team of tech support agents at SaviLinx and is responsible for ensuring that they deliver the best support for the client. This means everything from developing and monitoring deadlines, budgets, and activities for the team as well as guiding them and the company on how best to manage resources and prepare for change. Cristy joined SaviLinx with more than a decade of call center experience. After her first phone interview, she put her house on the market and relocated: "The best decision I have made." She is driven by results, and is motivated by solving problems. In her spare time, she spends time with her Springer Spaniel Patsy and her fiancé.
Haiyan Qi, Accounting Manager
Haiyan joined SaviLinx as an intern while completing her MBA program from the University of Maine. Her task was to research and establish a 401K program for the company, which quickly led into a full-time position on SaviLinx's financial team. In addition to day-to-day financial tasks, Haiyan collects, verifies, and analyzes information for SaviLinx's financial reports and statements. She is motivated both by doing the work she loves as well as the friendly work environment at SaviLinx. In her spare time, she swims, hikes, and practices yoga, aikido, and Zumba.
Shemikia Reed, Operations Manager, Hattiesburg
Shemikia manages the Hattiesburg, MS office for SaviLinx, which is both a brick-and-mortar contact center as well as the hub for a large work-from-home team. In this role, she hires and coaches Customer Service Agents, tracks all call metrics, manages resource planning, and evaluates performance against key indicators along with assisting with client communication and reporting. Shemikia joined SaviLinx as a Customer Service Agent and served as a Supervisor prior to being promoted to Operations Manager. Her passion is helping the team consistently produce top metrics while keeping attrition rates low. In her spare time she loves to coupon and spend time with her children.
Lindsay Wiers, Program Manager
As Program Manager, Lindsay leads a group of Customer Service Agents to ensure effective communication and issue resolution and to identify trends and implement solutions. Lindsay works closely with our clients to understand their customer service and outsourcing needs  as well as with all stakeholders on the SaviLinx team. She was excited to have the opportunity to participate in SaviLinx's growth from the ground up. Lindsay is motivated by helping others, and believes that happiness and success come from personal contribution. In her spare time, Lindsay spends time with her family and loves anything to do with the outdoors.
Daniel Scott Murray, IT and Facilities Administrator
Dan's role at SaviLinx is to ensure that the SaviLinx team has the right information technology they need to do their jobs, and to keep it up and running. In addition to managing the company's hardware, software, network, servers, and firewall, Dan is responsible for the day-to-day management of SaviLinx's 30,000 square-foot headquarters facility. His favorite part of the job is the pace – he is always on the go. Dan has been with SaviLinx since it opened its doors. He worked with CEO Heather Blease at her former firm and was eager to be on the team that launched SaviLinx. In his spare time, Dan is a professional graphic artist who regularly contributes work to DC Comics, including Superman logo designs.
Savi, Chief Feline Officer
Savi joined the SaviLinx team at the request of employees, who indulge him with toys and soft spots to snuggle throughout the Brunswick, Maine headquarters. While team members are able to bring their pets to work, Savi is a pet to all. He is a free-range cat who patrols the entire office, often observing from the tops of cubicles.
Savi brings a wealth of experience in his tenure as Chief Feline Officer, including expertise in rearranging desk items (often during the middle of the night shift), angling for affection, and posing for photos. He shares deep thoughts regularly via the SaviLinx Facebook page. While he believes that he is feline enough for the entire office, he welcomes the presence of his step-sister, Lynx, who shares feline duties of providing affection and office hijinx.