Calculating the economics of outsourcing customer service can help your business unlock new ways to achieve goals. Does your business want to focus on core competencies? Do you need to shed overhead to better balance your operating model? Or do you need to more effectively leverage customer interactions?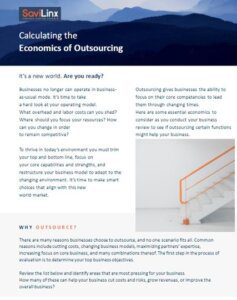 Changing your customer support business model can help you compete more effectively.
This ebook outlines the essential economics of outsourcing your customer support function:
Cost and risk reduction from customer service outsourcing.
Revenue growth potential from outsourcing.
BPO business improvement ideas.
Customer service outsourcing scenarios.
Outsourcing options for business functions.
How to calculate the impact to your bottom line.
This ebook is for any executive who wants to understand outsourcing options – from lift-and-shift to tiered segments, and other options in between. It also is a guide for any executive that wants a template on the fully bundled cost of customer service with a the cost-calculation worksheet.
The ebook also helps executives who want topline ideas on how to make outsourcing decisions that support your customer service objectives while balancing company goals.
Contact us for more information.