Contact Center Experts
Cymone Bradford: Hattiesburg First 5
Cymone Bradford | Supervisor | Flexibility led to growth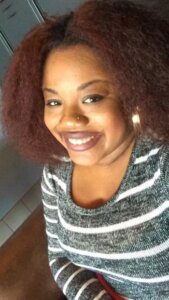 Cymone Bradford was one of the first people to be hired for SaviLinx's Hattiesburg, Mississippi team. Cymone had just graduated from the University of Southern Mississippi when a job posting led her to an interview with SaviLinx CEO Heather Blease.
What was it like to be one of the first people hired?
It was new and exciting. Our group was about 20 or 30 people. I interviewed with Heather and she told me about what SaviLinx was expected to accomplish under the contract. I was fresh out of school and I needed a job. It all sounded good to me. She hired me right there. It wasn't until we were nearly through with the interview that she told me she ran the company.
Was that a surprise?
Yes. I mean it's not every day that a CEO is interviewing people for customer service jobs, right? I think that just showed what kind of company SaviLinx is. Everyone is kind and compassionate.
Did you feel like your education prepped you well for the job?
I have a B.A. in political science. I worked in student affairs at the university. It's fair to say that I had worked with a lot of different personalities. So, yes, I think I was well trained to work with an array of customers.
What was it like to be part of this new team?
It wasn't just about starting a new job. We had to first learn everything about the contract's program and then the company that held the contract changed. So we all had this transition to a new job and then we needed to help establish the program for the new company. It was rewarding to bring our knowledge to the new company.
And because of the contract change, I was doing a lot of different things. Wherever they needed me, I just seemed to fit. I was working as a training assistant and then working to create the training buy clomid no prescription canada program for the new client. I then became a subject matter expert. I found myself preparing training materials, working on the client presentations, and training new agents.
You started out in Hattiesburg and now you work remotely?
Yes, I was considering leaving the company because I was returning to my home on the coast, but I was offered an opportunity to work from home. I think because I both worked hard from the start, and was willing to work where they needed me, that helped me stay on. The remote-based program was just starting and I became a supervisor in that program.
How did that go?
It was another transition. It was new and it was challenging, too. I was really grateful for the opportunity. I was 24 at the time, and I went from being a training assistant to a supervisor, so that was an adjustment for both the people I was working with and for me.
Was there anything that you learned from Heather, Kim, and Paul that helped you?
Kim [Williams, COO] has always been great at making people feel welcome and establishing structure. Paul Knoll [HR Specialist], in just the way that he interacted with people, was constantly teaching compassion. And, Heather was a great example of how to run a company by being humble and kind.
Compare how it feels to look back with looking forward.
It was all new back then. It feels good to know that we were part of establishing something that continues to grow. Also, I think the company has worked very hard to make us feel all connected to one another in spite of us working in different states and working remotely.
Today, I am fortunate to have a great team. I am now studying for my master's degree and I am grateful that SaviLinx supports my continuing education.
Looking forward, I hope that I continue to grow and move up in the company.
Advice for anyone looking to join SaviLinx?
Work hard because you never know where it will take you.