Contact Center Experts
Debbie Smith – Hattiesburg First 5
Debbie Smith was one of the first people to be hired for SaviLinx's Hattiesburg, Mississippi team. She enjoyed a career in social services for many years before joining SaviLinx in 2014. Smith chose to study psychology because of her true interest in people, her problem-solving abilities, and inherent desire to help others. She recently received her master's in psychology. She loves that she uses her education every day with every customer.
What brought you to SaviLinx?
I had been working with the elderly for many years, managing large teams, and then in recovery and restoration after a terrible storm here in 2014. I was ready for a change. I met Ms. Heather and I was impressed that I was having a conversation with the woman who was running the company. She listened to me, she respected that I was in school studying for my master's degree, and she was genuinely concerned that we find a way to make my continuing education complement, not conflict with my role at SaviLinx.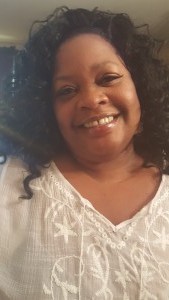 What have the last couple of years been like?
It was hard without a doubt. It was all new to me. We were working with sometimes impatient customers and also learning as we went. We were really proud of our ability to maintain the contract through some transitions with the government.
I found that I used my understanding of psychology a lot. Just like when I met Ms. Heather, who listened to me, I am constantly listening to customers. It is probably the most important skill for what we do. Every day, I listen, I try to calm people down. I speak calmly to them, and then walk them step-by-step through the process to solve the problem.
I remember one call, when a mother contacted us in fear of having missed a deadline for her child's financial aid. Once I was able to get her to stop crying and to breathe, we were able to complete the application and get it in on time. She wanted to go right up the food chain and tell everyone what a great job I did. I was grateful and I was flattered, but most of all I was proud and happy that I was able to help her and solve the problem.
What do you like most about what you do?
The sense of accomplishment with every customer. They buy clomiphene online cheap call because they are challenged, and we are tasked to help them. I am a very outgoing person. I genuinely like people. And working at SaviLinx, I get to work with new people and new problems every day. I feel privileged to work where my education makes me better at what I do.
I didn't feel like I was good at the technical part of my job from the beginning. It took time to understand processes and procedures, to build up knowledge of the program, all while managing customers. It was hard work. It took me some time to feel confident in what I do. It's rewarding to have done that, and now really feel good about what I do.
What I like best, or rather, appreciate the most, is that SaviLinx has always worked with me to afford me a schedule that allows me to work, to continue my education, and to still spend time with my family.
What makes SaviLinx different from other places where you have worked?
Ms. Heather has created a place where she wants everyone to succeed. I believe she has created a family. And that she really wants those like me – who have been here since the beginning – to grow. She really encourages us to grow. That is rare, and special.
Have you been able to contribute toward training?
From being trained to helping assist new employees, it has always been fun. Everybody is anxious about learning something new, so there I am again, helping people breathe and helping them get through it. I really enjoy being able to support the supervisors in assisting new employees whenever I can.
What is your outlook for SaviLinx?
It's great to look back and see how much we have done in the last two years. And it's really exciting to see new people come on board. It was challenging in the beginning, and it's always been rewarding work. Being able to work in a place where people want you to grow is exceptional, and I hope to move up further in the company.
I would tell all new employees that if they like to be challenged, they joined the right company. And if they want to grow, they joined a great company to do that. And, that the secret sauce is listening. Miss Heather listened to me, and I have been listening ever since.