Contact Center Experts
Insights on Government Contracting for Customer Service on GovCon Giants Podcast
Government contracting for customer service is a complex field: Federal and state agencies require skilled Agents who can answer complex questions and provide professional service from citizens who often are experiencing stressful situations. Providing professional and empathetic service is just the start – most government contracts require strict service and operational protocols, and BPO service providers must be able to hire, train, and manage large numbers of skilled Agents.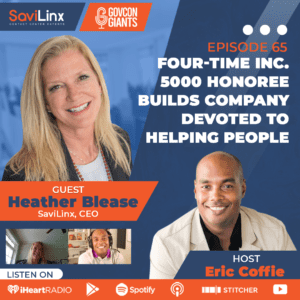 SaviLinx CEO Heather Blease talks to GovCon Giants podcast host Eric Coffie about the company's start in government contracting for customer service, and the growth the company has experienced. She also discusses the evolving role of CEO, and how she views SaviLinx's mission for helping people.
In the podcast discussion, Heather also talks about SaviLinx's government BPO service programs serving several large federal and state agencies to help military members navigate insurance options and enroll in a plan, to help people who have lost their jobs to file unemployment claims and track the status of their benefits, and to help citizens enroll in a state paid family medical leave program.
Listen in to this wide-ranging and thoughtful conversation between Heather and Eric at any of the following channels:
Download via Libsyn
Listen on Apple Podcasts
Listen on Spotify
Listen on iHeart
Listen on Google Podcast
Listen on Google Play
Listen on Stitcher