Contact Center Experts
Original Eight: Lindsay Wiers, Program Manager
SaviLinx opened its doors in June 2013 with a handful of employees. In 2016, eight of the original team remain; these profiles of the "Original Eight" are to celebrate the company's third anniversary.
Lindsay Wiers was one of the first employees at SaviLinx, starting on June 8, 2013. In addition to coming on board to help with general administrative duties, she was responsible for recruiting call center agents. Today, she continues recruiting for the Brunswick, ME headquarters location as well as serving as a Program Manager. Following is a conversation with Lindsay looking back and ahead for SaviLinx.
How did you learn about SaviLinx?
I met Heather Blease when we both worked at Thayer Corp. My position was eliminated, and Heather asked me if I would come on board with her new company. I jumped in – I had never worked for a startup before, and I was intrigued.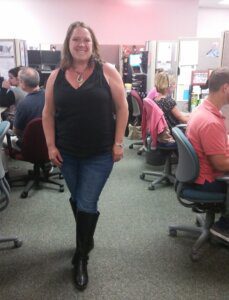 What was your job like in those early days?
I did everything that needs to be done at a startup! It was exciting, amazing, stressful, and scary. I instantly started recruiting agents, and went through the training for all new clients. I managed the technical team, have been a Team Lead, and now am a Program Manager. I've done all of the hiring and recruiting for our Maine location since day one.
What is the company like today?
So much has happened in three years. It has been so rewarding to see SaviLinx grow. We started with 15 employees can i buy clomid at cvs here in Brunswick, and now we have 250 and are prepping for another 200. We are growing.
SaviLinx has excellent employee retention, a feat in an industry known for high turnover. What's your secret?
People don't work for a company – they work for people. We invest in our people and make them feel valued. We also listen. Our employees are the reason we have cats in the office, and why we changed our dress code from business casual to jeans. We listen and make changes. It's huge when employees know their voice is heard.
SaviLinx is rightly proud of its employee-centric culture. How can you focus on that, when most contact centers focus on metrics?
We all know we need to get work done, but we focus on making it fun. We play games to encourage teams to hit goals, we have neighborhoods in the office, and employee recognition days. When it's hot, we buy ice cream sandwiches and have BBQs. When I hear of an agent doing a good job on a call, I publicly acknowledge it. We also have a great line of communication among the management team, and the employees see it. We share one space, and work closely together. We are always helping each other out.
What do you see ahead for your career at SaviLinx?
Heather has been a huge mentor to me and has given me endless opportunities. It has been an amazing journey so far, and I plan to retire with this company. I'm a lifer.