Contact Center Experts
Original Eight: Owen Fish, SuperQueue Team Lead
SaviLinx opened its doors in June 2013 with a handful of employees. In 2016, eight of the original team remain; these profiles of the "Original Eight" are to celebrate the company's third anniversary.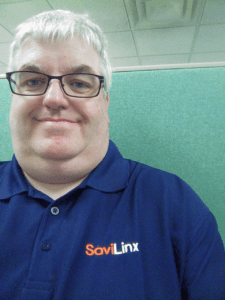 Owen Fish was born in the UK, but moved to the US to pursue a relationship. The couple married, he became a citizen, and the US is now his home. This is his second time working for CEO Heather Blease. Following is a conversation with Owen looking back and ahead for SaviLinx.
How did you hear about SaviLinx?

I heard about SaviLinx in a training program. They had flyers announcing the opening of SaviLinx, and it turns out it was the very next day. I went and saw Heather talking to the press. I threw myself right into her face and told her I was keen to get in on the ground floor. I wanted to come in and make a difference. The rest is history.
Tell us about your job.

I was the first Team Lead at SaviLinx. About 20 people report to me, and my day-to-day work includes scheduling, mentoring, and coaching. I'm British, and I'm a soccer fan – I see myself as a sports team manager. My team are the players on the field. What are their strengths? How can I best move them around?
SaviLinx has an enviable employee-retention rate. How do you do it?
Rather than discarding people if they don't fit into a cookie cutter, we think of everyone as dough. We shape them. We find their strengths and weaknesses, and work with them. We help people buy clomid with mastercard feel wanted. We try to be constructive, to build people up.
What was it like when SaviLinx started?
I've always worked for large multinationals, which sweep you along with rules, regulations, and procedures. It was quite refreshing when we started SaviLinx and were determining policies. Heather would say, "What do you think?" We were lucky to have Heather be so open as CEO.
What's it like today?
I feels like we've grown up. We're not playing startup anymore, we're playing proper company. It's an exciting time. But everyone is still very much on a level here – you can talk to the CEO, COO, IT Director, and you don't have to put on airs and graces and go up through the chain.
The culture is special at SaviLinx.
We wear jeans and t-shirts. We can have a joke together, because we have made it part of the company mission to make sure that working here is fun. I don't know of any other company that would entertain the idea of having office cats! Employees can decorate their own areas. We avoid imposing too many regulations on people so they don't feel like work is a chore. You might feel that people would abuse a situation without a lot of hard and fast rules, but they don't – they embrace it.
What does the future hold for SaviLinx?
We're on an upward slope. We are getting big contracts. I came here because I saw a career path where I could push the company up, not just be a passenger. I think other people are thinking the same thing.