Contact Center Experts
SaviLinx Launches SaviScholar Scholarship Program
First recipient will use $2,000 scholarship to complete her college degree and challenge her children to follow her example
BRUNSWICK, Maine – August 27, 2019 – SaviLinx, LLC has launched a new scholarship program designed to encourage its employees to advance education and achieve long-held dreams. Founder and CEO Heather D. Blease traveled to the company's Hattiesburg, Mississippi contact center to present Jequetta Dean, the first SaviScholar recipient, with commitment for $2,000 towards completing her college degree.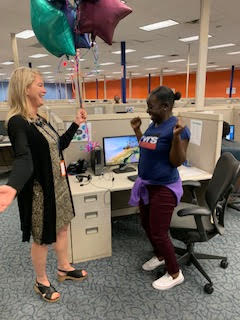 "Earlier this year we took a fresh look at our charitable giving to make sure our donations match up with our Guiding Principles of inspiring innovation, supporting creativity, and demonstrating integrity," says Blease. "We decided the most meaningful way to live our Guiding Principles was to support our own employees."
Employees from the company's Maine and Mississippi locations submitted applications for funds to do everything from starting their own businesses to learning new skills. Upon reviewing applications, the review committee decided that one stood out: Jequetta Dean, a Customer Support Representative based in Hattiesburg, wanted to set an example for her four sons about the importance of education. She promised her eldest that if he stayed in school and graduated, that she would go back to college to finish her degree. SaviLinx is thrilled to donate $2,000 toward her tuition for the University of Southern Mississippi.
"I have to set an example to my sons to never give up on your dreams or yourself," says Dean. "It moves me that SaviLinx understood my passion and cared. To have an employer that encourages growth is such a blessing."
"I believe that everyone has a desire to live their life to the fullest. The SaviScholars program will enable us to challenge each other and be inspired by each other as we learn and grow together," says Blease. "SaviScholars is about supporting our employees as individual people so that we are all stronger as a team."
All non-seasonal employees in good standing are eligible to apply for SaviScholar funds. SaviLinx will announce dates for the next SaviScholars program in the fall of 2019.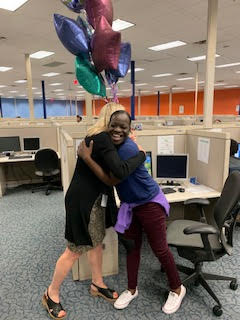 About SaviLinx
SaviLinx is a strategic partner for customer service and technical support outsourcing. Customers include fast-growth companies that need to scale, technology firms that need outstanding tech support, ecommerce companies that need expert assistance with customer calls and emails, and government agencies that need a partner for business process support. It pairs advanced technology with powerful analytics to help companies exceed goals, drive revenue, and stand out from the competition. SaviLinx has contact centers in Maine and Mississippi. Founded in 2013, SaviLinx is headquartered at the Brunswick Landing, a decommissioned naval station in Brunswick, Maine. SaviLinx is a Women Owned Small Business and HUBZone certified. SaviLinx has been listed on the Inc. 5000 list of fastest-growing companies in 2017 (#28), 2018 (#617), and 2019 (#1,388). Visit the company online at SaviLinx.com