Contact Center Experts
SaviLinx Sponsors "Flatten the Curve" Hackathon to Combat COVID-19
MyHealthMath Calls Maine Tech Community to Action With COVID-19 Hackathon
March 16, 2020, Portland, Maine.
The World Health Organization declared the Coronavirus Disease 2019 (COVID-19) a global pandemic. The President of the United States has declared a National Emergency. Maine's state and local leaders are preparing for widespread community transmission.
Maine CDC officials have confirmed community spread in the state.  Maine COVID-19 is highly transmissible and leads to signs and symptoms that resemble the common cold but can ultimately be deadly. Maine's population is at particular risk; it is the oldest in the nation and in 2018 before COVID-19 came on the scene, flu/respiratory illness was already our 8th leading cause of death.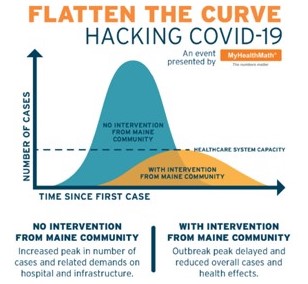 "What happens next is largely up to individual Mainers. It is a defining moment for our State. Every Mainer must take action, most importantly strict social distancing to protect our families and neighbors," says MyHealthMath's Chief Mission Officer and Medical Director Elizabeth Coté, MD, MPA who is also one of 20 national Aspen Institute Health Innovator Fellows.
"Mainers intuitively make the most of their resources in the face of challenges. Maine has a big resource in its growing tech community on top of innovative thinkers of all kinds in the State. We are going to virtually convene and mobilize that talent to flatten the curve of COVID19 cases in Maine," says MyHealthMath Chief Technology Officer Dave Widener.
That's why Dr. Coté, Mr. Widener and MyHealthMath invite you to participate in a virtual Hackathon, Flatten the Curve: Hacking COVID-19 on Friday, March 20th from 9am – 2pm (RSVP HERE).
The goal is to rapidly design web and mobile application prototypes that will assist with communications and logistics to slow the spread of COVID-19 in Maine. We are calling on innovative thinkers and Maine's best tech talent (developers, analysts, project managers) to join us for the event, flatten the curve and change the course of history for Maine.
During the virtual event, the participants will build a shared vision, break into virtual hack teams, work through specific ideas, and share results at the end of the day (Hack #1). A minimum viable product (MVP) will be determined as an output of the event along with immediate to near-term next steps for execution and delivery (Hack #2). Some ideas for the applications include an evidence based self-triage system, real time actionable Maine-specific situation report texts, interactive features to help self-enforce social distancing, a virus tracking map, a mechanism to help redistribute materials and resources in shortage, mobile transport scheduler, welfare check request system, community workforce mobilization,  identifying and partnering with vulnerable individuals, ways to combat social isolation, prevent stigmatization, or assist families with children with food and educational access.
Together, Maine's tech community will flatten the curve, keep our state healthy and protect our most vulnerable citizens. Click here to RSVP to this virtual event.
This event is generously sponsored by MyHealthMath, The VIA Agency, SaviLinx, Cross Employee Benefits and StartUp Maine, all companies located in Maine and invested in generating innovative solutions to keep Mainers safe.
Contact Heather Rogers, MyHealthMath Healthcare Strategy Partner, hrogers@myhealthmath.com
About MyHealthMath
MyHealthMath is an Insurtech firm enabling efficiency and savings for employers and their employees through the collective power of informed decisions.  Combining innovative decision-support technology and human interaction, MyHealthMath reduces health insurance costs and optimizes the health insurance marketplace. Based in Portland, Maine, MyHealthMath has direct and SaaS clients throughout the US. As a neutral third-party, MyHealthMath guarantees objectivity and confidentiality for all individual use data collected from claim reports and individual interviews.
About The VIA Agency
Helping clients grow through creativity since 1993, The VIA Agency is a full-service advertising and marketing agency located at the historic Baxter Library in Portland, Maine. VIA clients include: Lowe's, L.L.Bean, Unilever (Klondike), Arm & Hammer, Perdue, and Golden Corral among others. They have been recognized as a Top 10 Place to Work by Ad Age, and in 2019, VIA was named a Best Workplace by Inc. and an Ad Age Small Agency of the Year (Gold). For more information, please visit www.TheVIAAgency.com.
About SaviLinx
SaviLinx is a strategic partner for customer service, technical support, and business process outsourcing serving federal, state, and local government and commercial business. SaviLinx pairs exceptional people with advanced technology to help customers exceed goals, grow their top and bottom lines, and stand out from the competition. Founded in 2013, SaviLinx is headquartered at the Brunswick Landing, a decommissioned naval station in Brunswick, Maine and has a brick-and-mortar facility in Hattiesburg, Mississippi along with a large work-from-home workforce. SaviLinx is a Women Owned Small Business and HUBZone certified and has been listed on the Inc. 5000 list of fastest-growing companies in 2017 (#28), 2018 (#617), and 2019 (#1,388). Visit the company online at SaviLinx.com.
About Cross Benefit Solutions
The Cross Benefit Solutions has two goals: to meet the employee benefit needs of New England businesses and to serve as a conduit to the insurance industry for our business clients. Our six-point performance obligation outlines the standards to which we adhere. We believe our commitment to responsive benefit services builds a foundation for strong business partnerships and satisfying long-term results. It is through our exceptional services that we have become Maine's largest Employee Benefits provider and represent more than 15,000 employee benefit clients throughout New England.
About Startup Maine
Startup Maine is both an organization and a flagship conference held once per year that has evolved out of a group of doers, founders, and community members coming together in 2014. Maine has always been a place to have a great family life, and over the past decade, it has grown into a place to also do great work. World class organizations, talent, and leaders are emerging throughout the state as professionals and companies no longer need be tethered to large cities and central offices. Technology is democratizing access to resources, and a culture of entrepreneurship and innovation is taking hold.